'The bar is so low it is a joke' - Ellen Tejle on The Bechdel Test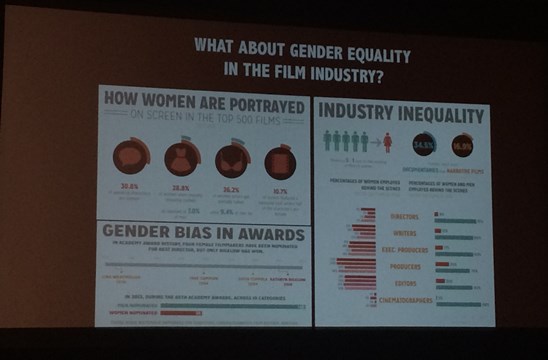 'The bar is so low it is a joke' - Ellen Tejle on The Bechdel Test
A brave start - speed networking before 9am. What I learnt: you need a facilitator, it is distinctly un-British, but a great way to hone your pitch and everyone had heard of Sheffield thanks to Doc/Fest. This was actually an energising start to the day and a good opportunity to plug our roundtable on Wednesday.
I'm very envious of the AHC2015 app - with three parallel sessions running the majority of the time, the ability to create your own itinerary is most helpful, you can also set reminders so you don't miss cocktail hour. Are there any developers out there keen to take this on for #TWU15 I wonder?
Now we have the official opening, I have to admit - it's been a little confusing - having a day with Salt Lake City Film Society and an opening party before any formal welcome which we now get three-fold.
Russ Collins who has been involved in AHC since its inception begins. The AHC mission is to increase the quantity and quality of arthouse cinema and to promote the culture and value of cinema in a community setting and the rich and diverse nature of the cinema market. This feels very similar to our own BFI FAN Reach/Breath/Depth objectives. He goes on to describe their support for artistic expression, freedom of speech and social justice. Whilst I doubt independent cinemas in the UK would challenge this it is a point of difference that AHC take direct ownership of these values.
Keynotes by Stephanie Silverman (Managing Director, Belcourt Theatre, Nashville) and Jody Arlington (Acting Director, IFP Festival Forum) follow. Stephanie invites delegates to 'agressively refute the myth of the dying arthouse' and to celebrate 'the uniqueness of you' maintaining AHC's celebratory tone.
One reason for the excitment and energy in the room is AHC's recent involvement in the campaign for cinemas to show The Interview. This successful intervention is cited frequently as an example of the influence the arthouse or 'non-profit' sector can bring to bear.
Sally and I have divided and conquered the AHC schedule so head over to her blog for other sessions and better jokes.
I start with Avenue ISR Presents the National Audience Survey. Sherwood Smith (Founder/Managing Director) is particularly deft at presenting the trends and patterns from 20,000 respondents at over 30 art house cinemas. I like the motivations chosen to describe why a respondent visits their respective cinema: 'sparks my curiosity, makes life enjoyable, makes me a more well-rounded person, makes me more tolerant of other points of view'. The confident summary was a direct link between proximity to art house cinemas and overall quality of life - what more could we want?!
In Breaking the Fifth Wall: Rethinking Arts Marketing for the 21st Century, Gene Carr is equally energetic. Taken from his book Gene takes us through approaches to CRM, email marketing, website design and social media which are so logical I was embarrassed not to be doing them already. My favourites were: never use the 'send to everyone on my list' button and to identify who your really engaged audiences are (repeat attendees or those consistently opening your emails) and have special offers for them.
AHC is peppered with impressive keynotes. After lunch we hear from film critic Anne Thompson. Indiewire covered her session here and I highly recommend her blog for ongoing industry insights.
Next up is No Sexism Please - We're Swedish. I was really thrilled to meet Ellen Tejle having been an admirer of her invention - The Bechdel Test for some time. This simple certification highlights the endemic gender inequality in the films we watch. To be awarded the A rating a film must feature two named women who have a conversation about something other than men. As Ellen says 'the bar is so low it is a joke' which given how few films pass rather underlines her point. Ellen has gained international news coverage for this initiative and I can see how it could be employed effectively in the UK – perhaps the BFI could take it into account when funding films?
Keri Putnam, Sundance Institute's Executive Director gave a timely closing keynote, again, inspired by the recent events around The Interview. Her speech is covered in Filmmaker Magazine here.
She made a good point that interest in the film's VOD performance had been raised and went on to announce that Sundance are working on a framework to gather and report this information – watch this space.